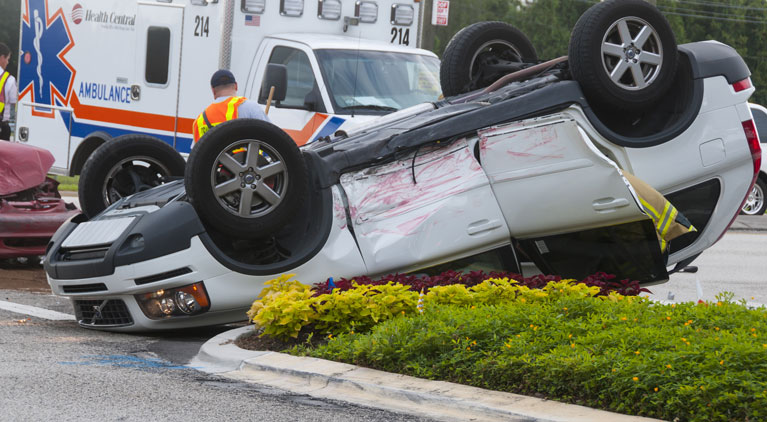 September 14, 2021
On Tuesday at 7:19 am a pickup truck which Is found out as a white Chevrolet Silverado crashed with a white Toyota Tacoma pickup truck for unknown reasons. After the accident, Tacoma overturned several times and hit the fence on the right shoulder.
The officers arrived and declared that the accident caused one death. Soon after, they found the body about 20 feet from Tacoma.
The identity of the victim could not be provided immediately and officials are waiting for information from the family.
Currently, the California Highway Patrol is still investigating the accident to determine the exact reason and liability.
Types of rollover accidents in California
Rollover Accidents occur when the vehicle rolls over to the side or roof. Although any vehicle can overturn, these accidents usually involve taller and narrower vehicles such as SUVs, pickup trucks, and vans. These motor vehicles have a higher centre of gravity, which drastically increases the chance of rollover accidents.
There are two types of rollover accidents:
Tripped- This is often the common type of single-vehicle rollover. It happens when the vehicle slides off the road sideways. If tires dig into the soil or a motor vehicle hits objects such as guardrails or curbs, this can cause the vehicle to tip over.
 Untripped- The vehicles in these accidents will not collide with any objects. Instead, they usually involve top-heavy vehicles, when the driver is speeding and suddenly manoeuvring to avoid a crash.
Your right to compensation in a rollover accident in California
If your motor vehicle rolls over, you may suffer life-altering medical conditions, such as burns, brain trauma, paralysis, and internal organ damage. Even if you are partially responsible for causing the accident, you may be entitled to compensation from the negligent party under California law. Damages recoverable include:
Past and future medical expenses
 Past and future loss of wages
If you lose the ability to earn an income due to disability
 Past and future pain and torture
 Your vehicle and other damaged property Repair or replacement costs
 Punitive compensation
compensation for wrongful death
Consult Experienced California Attorney About Your Rollover Accident Case
Becoming a victim of a car accident can be a devastating experience. From being seriously injured to determining the person responsible for the accident, to seeking compensation from the insurance company, it is an overwhelming experience for the victims of a car accident.
As a California rollover lawyer, we at Khashan Law know that a vehicle overturn can become the most serious and dangerous type of vehicle accident. A rollover accident can be fatal or cause serious injury to the accident victim.
Our team of experienced lawyers understands the problems faced by the victims of rollover accidents. If you or your loved ones are injured or lose someone in a car accident, please contact us today at (951) 461-2387 for a free and confidential consultation.