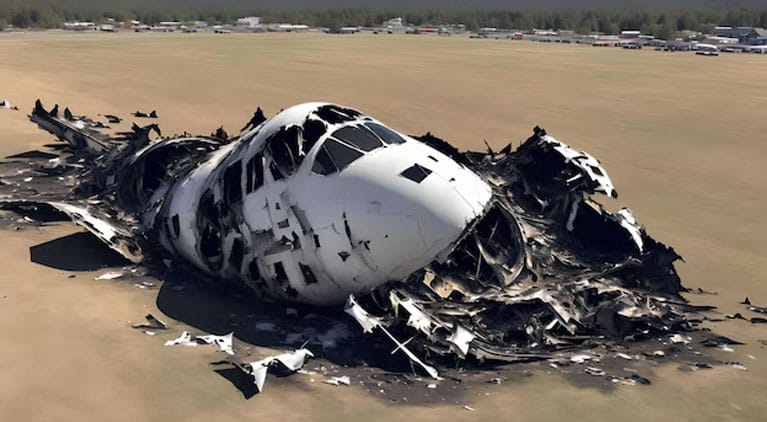 July 13, 2023
On Saturday, local and federal authorities reported that the small jet crashed and caught fire in a field near an airport close to Los Angeles, resulting in the tragic demise of all six individuals on board.
According to a statement from the Federal Aviation Administration, a Cessna C550 business jet flying from Las Vegas crashed near French Valley Airport in Riverside County, approximately 85 miles (137 km) south of Los Angeles, at approximately 4:15 a.m.
During a news briefing, Elliott Simpson, an aviation investigator for the National Transportation Safety Board, said that all the passengers and the pilot who died in the plane crash were adults.
The aircraft, which was privately owned, crashed 500 feet away from the runway at the small airport. According to Simpson, the crash occurred while the plane was trying to make an instrument landing, as a marine layer weather phenomenon was affecting the area.
As per him, the conditions seemed to have met the minimum standards required for landing at the airport. However, just a few days ago, on July 4th, a small plane carrying four people crashed near the same airport, resulting in the death of the adult pilot and injuries to three young passengers.
Simpson said on Saturday, there was an incident where a fire completely consumed everything except the tail of an aircraft that had crashed. Aerial footage captured by local media showed the charred remains of a small plane in a burnt section of a field on the other side of the road from the airfield.
Based on the radar data provided by FlightAware, a sole business jet was recorded to have traveled from Las Vegas to French Valley during the specified timeframe. Before initiating its descent, the aircraft completed a single circuit near the airfield.
The sheriff's office in Riverside County, where the French Valley Airport is situated, stated that upon arriving at the crash site, officials discovered a fully engulfed aircraft in flames within a field. Tragically, all six occupants were pronounced deceased at the scene.
Simpson said that the National Transportation Safety Board (NTSB) will carry out additional investigations into the crash and is anticipated to release further findings within the upcoming two weeks. The identities of the deceased were not disclosed.