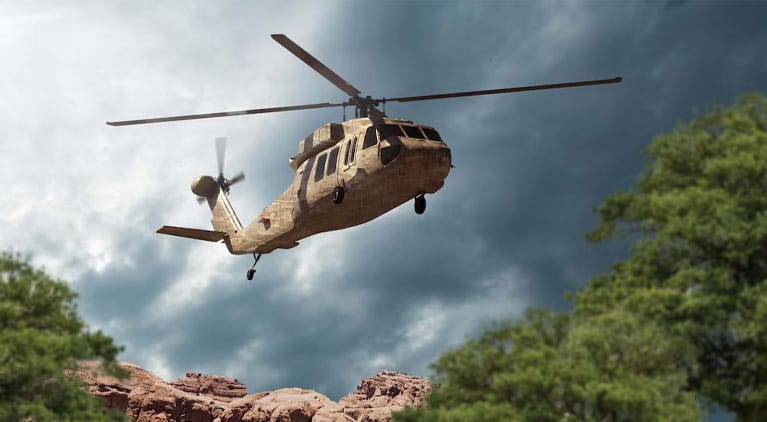 August 10, 2023
A tragic incident occurred in Southern California as two firefighting helicopters collided while responding to a blaze. The collision resulted in one helicopter crashing to the ground, claiming the lives of all three individuals on board.
On late Sunday afternoon, a crash occurred in the desert located about 85 miles (137 kilometers) east of Los Angeles. The crash involved a smaller Bell 407 and a massive Sikorsky S-64E, with the larger Sikorsky landing safely.
During a news conference held early on Monday, Cal Fire Southern Region Chief David Fulcher sadly reported that all three members aboard the second helicopter had passed away following a crash.
According to Fulcher, the Bell helicopter was utilized for observation and coordination, while the Sikorsky could release water or retardant to extinguish fires. It remains unclear whether the Sikorsky was loaded during the time of the crash.
As per the firefighting agency's report, the casualties of the incident were Cal Fire Assistant Chief Josh Bischof (46 years old), Cal Fire Capt. Tim Rodriguez (44 years old), and contract pilot Tony Sousa (55 years old). Bischof had devoted 24 years of his life to the fire service, while Rodriguez had served for 19 years, as confirmed by fire officials.
Don Camp, retired Cal Fire Battalion Chief, shared that Bischof, a Menifee resident, was recently promoted to assistant chief and served at the Southern Region Operations Center located at March Air Reserve Base.
Reporters were informed on Monday that President Joe Biden had been briefed on the crash and was offering his prayers to the families of the brave firefighters who lost their lives in the line of duty. Karine Jean-Pierre, the White House press secretary, shared this news as Biden was on his way to Arizona.
In honor of the fallen firefighters, the State Capitol has ordered flags to be flown at half-staff. Governor Gavin Newsom expressed his sincere condolences and recognized the daily dangers that firefighters face in their mission to keep our communities safe. He highlighted their unwavering bravery and sacrifices and pledged always to honor their memory.
At around 6 p.m., a structure fire was reported at the intersection of Broadway Street and South Ronda Avenue in the Cabazon community. Cal Fire and Riverside County Fire Department were sent to the location to provide assistance.
Unfortunately, the fire spread to the surrounding vegetation, and a full wildland fire dispatch was initiated. This included six airplanes and helicopters to help contain the fire.
Fulcher mentioned that it's a typical protocol for wildland fires to send those resources. Cal Fire stated in a social media post that the fire had spread over roughly 3 acres (1.2 hectares) and was burning in light, flashy fuels with a moderate rate of spread.
During the fire-fighting operation, two helicopters collided shortly before 7 p.m. This resulted in another fire that covered an area of 4 acres (1.6 hectares), but it was eventually put out.
Fulcher stated that although the incident was tragic, the authorities are thankful it wasn't more severe.
The helicopter that crashed was being piloted under contract with the California Department of Forestry and Fire Protection. The crew of two on board the Sikorsky was also under contract.
Cal Fire has around 60 aircraft in its fleet, but it also hires commercial companies to provide additional helicopters and airplanes that are kept on standby at various bases across the state.
According to Cordova, it is rare for in-flight collisions to happen during California wildfires, but it has occurred in the past. He could only recall two instances that happened over several decades, but he did not have immediate details. The National Transportation Safety Board is currently investigating the crash.