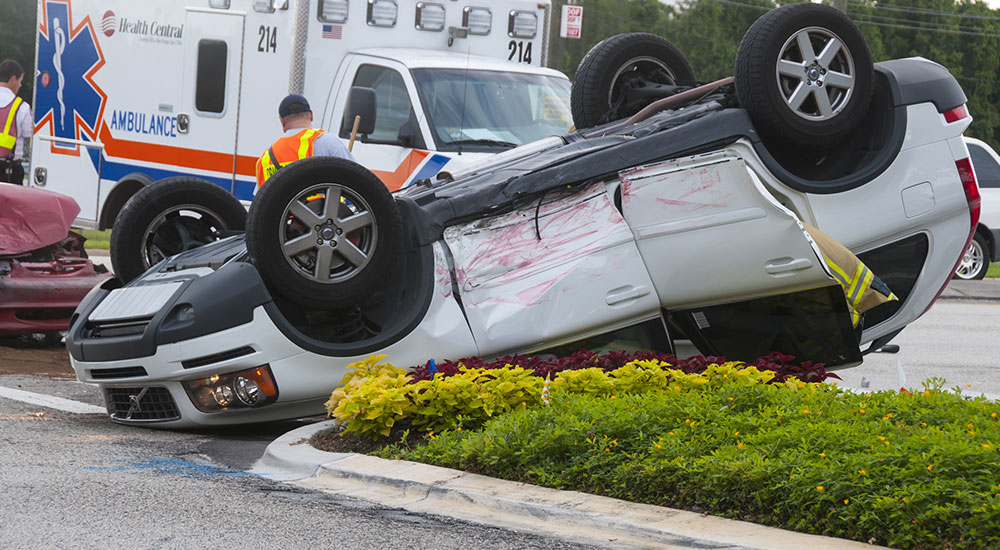 September 30, 2021
Authorities are searching for the driver involved in a rollover accident in Chula Vista early Monday, September 27.
The California Highway Patrol received a report after 3 a.m. of a car rolled in a ravine on southbound Interstate 15, north of E Street.
Authorities arrived at the crash location to find a totaled white sedan at the scene but could not find the driver in the incident.
CHP officers investigated the area for the driver but were unable to locate him. Due to which they are unsure whether the driver crawled out of the wreck and fled or was ejected.
Causes of Rollover Accidents in California
One of the most tragic crashes you and your family can experience is a rollover car accident.
Speed – Speeding is responsible for over 40% of all fatalities.
Overcorrection – This happens when a driver makes a quick steering manoeuvre to avoid road debris, falling cargo from a truck, or other drivers swerving into their lane or generally driving carelessly.
Intoxication – When a driver is intoxicated from drugs or alcohol, their response time, judgment, and other driving skills are weakened, making it considerably more probable that they may lose control. Rollovers can also happen when a driver makes a quick steering adjustment to avoid a collision with another vehicle.
Road defects – Swerving to escape terrible road conditions, including potholes, loose gravel, and other flaws, might result in an un-tripped rollover. An accident victim may file a claim against the municipality in charge of road maintenance if this occurs.
Vehicle defects – A crash could also be caused by defective vehicle parts or design. Blown tires or faulty brakes are just a few of the problems that cause vehicles to roll over. According to these situations, a product liability lawsuit might hold the vehicle and parts manufacturer liable.
Your Right to Compensation in a Rollover Accident in California
If your car rolls over, you could suffer life-threatening injuries such as burns, traumatic head injuries, paralysis, and internal organ damage.
However, even if you were partially to blame for the accident, California law might allow you to seek compensation from the irresponsible person. Damages that are recoverable include:
 Past and Future medical expenses
 Wages lost in the past and the future
 If you become disabled and lost your earning capacity.
 Past and Future suffering and pain
 Costs of repairing or replacing your vehicle and other damaged property
 Punitive damages
 Damages for wrongful death
Rollover Accident Lawyers
People who become victims of catastrophic injury or death due to rollover accidents caused by no fault of their own can file lawsuits against all parties liable.
The facts of the case will be reviewed and studied by a California rollover accident lawyer to identify liable parties. Khashan Law, with its extensive knowledge and strong contacts, can assist you in finding solutions to your problems.
Insurance Companies have a record of avoiding paying fair compensation to accident victims and taking advantage of them. An experienced attorney can help you deal with these insurance companies; contact us at (951) 461-2387.
About The Author