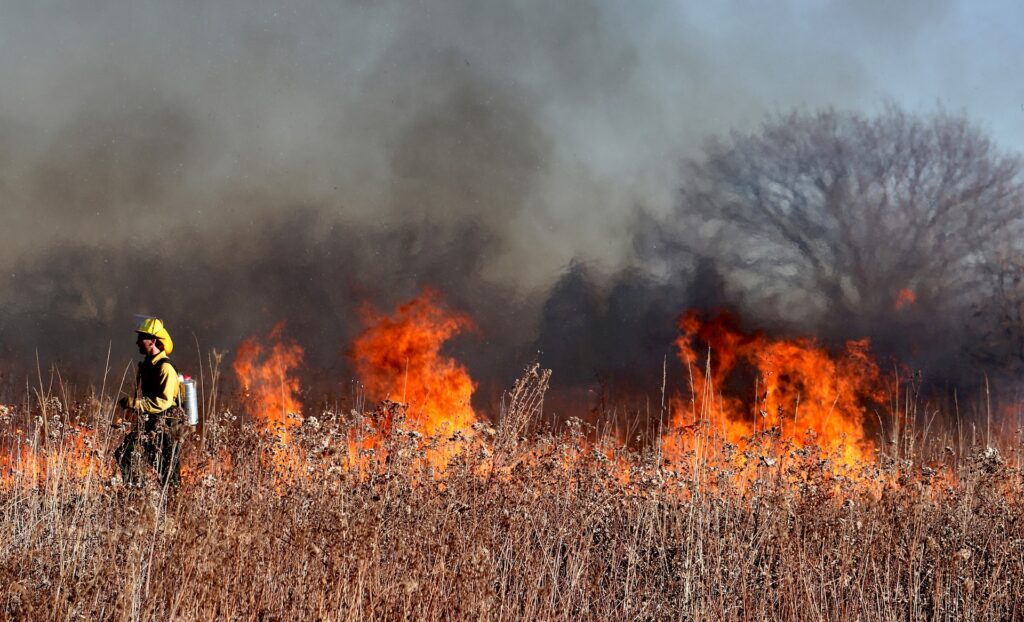 July 23, 2021
A US couple responsible for hosting a gender reveals party last year has been charged for starting a deadly California wildfires. They have been charged with several offences including involuntary manslaughter and can face up to 20 years in prison.
Refugio Manuel Jimenez Jr and Angela Renee Jimenez had held a gender reveal event in September 2020 in which a smoke bomb was used for the celebrations. The smoke bomb is said to have sparked a blaze in which one firefighter was killed and others were hurt.
The smoke bomb supposedly caused the El Dorado fire that lasted more than two months covering 22,000 acres of southern California. The fire caused havoc and destroyed several homes and other properties.
According to the California Department of Forestry and Fire Protection (Cal Fire) on 5th September 2020, a "smoke-generating pyrotechnic device" was used during the party near the city of Yucaipa that started the fire. The wildfire was finally extinguished on 16 November
Firefighter Charles Morton was killed while controlling the blaze and several other firefighters got seriously injured. On 20th July 2021,
San Bernardino County officials announced that the couple had been charged with involuntary manslaughter and for recklessness that caused a fire resulting in injury and damage to homes.
The couple will face prison sentences up to 20 years if found guilty on all charges. They are due to appear in court on 15 September.
In recent years the trend of hosting gender reveal parties have caught up where expecting parents announce whether they are going to have a girl or a boy. The parties may include prediction games, with fireworks and smoke grenades being used to make the "big reveal".
There are many instances when large-scale parties have gone terribly wrong.
California Wildfires

Many people have died and thousands of acres of property have been destroyed in wildfires across California. The victims of the wildfires may be seriously injured or may lose their homes or property.
The wildfires can create havoc and destroy the lives of people completely. The victims have no clue on how to rebuild their lives and start afresh. Most victims don't know that whom they can hold accountable or liable for their situation and their losses.
Compensation and claim for Wildfires

Wildfires victims have legal rights, they can file for compensation for their injuries, loss of property etc. Determining the responsible party for the losses and damages suffered in wildfires requires thorough knowledge of the law.
Hence it is advisable to hire the services of an experienced California wildfires lawyer who can help you file a claim and get the compensation you deserve.
Wildfires can result in rising insurance claims, increased healthcare costs, and several legal issues leaving the victims helpless and distraught. We at Khashan Law firm have represented several victims of huge disasters, like wildfires.
We are committed to helping the victims and their families of wildfires to recover compensation for the damages and losses they have suffered. If you or your family has been a victim of a California wildfire contact us at 951.461.2387 for a free, confidential consultation.