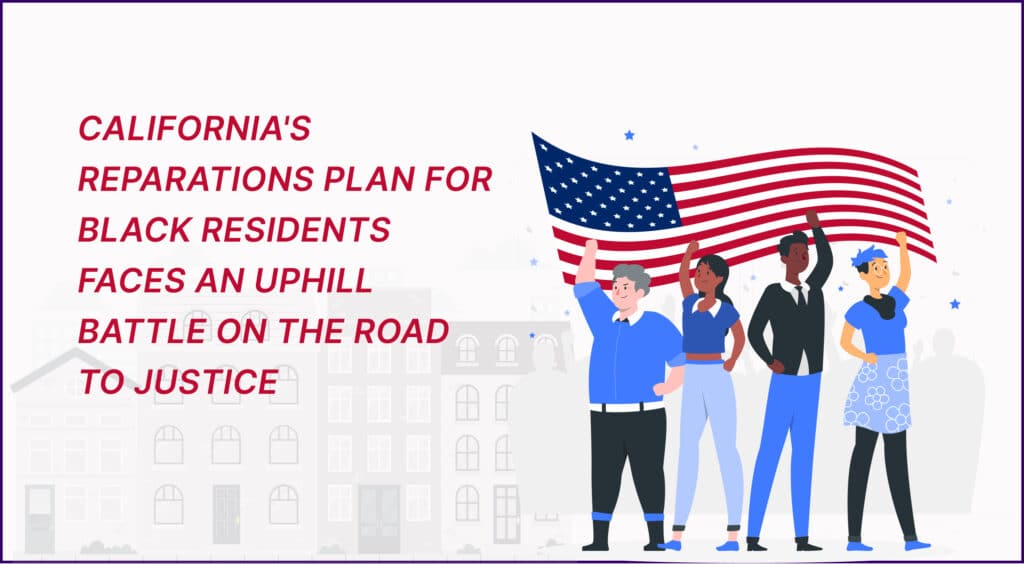 May 23, 2023
In a groundbreaking move, California's reparations task force has recently approved significant recommendations that could potentially allocate billions of dollars in reparations for the state's Black residents.
These proposals, including the possibility of over $1 million in payments to certain individuals, resulted from extensive testimonies and meetings, often filled with emotional discussions.
Established in 2020 following the tragic police killing of George Floyd and the subsequent national reckoning on race, the task force aimed to address historical injustices faced by Black communities.
However, despite the initial momentum of the racial justice movement, support has waned, and the state now confronts a staggering $32 billion budget shortfall.
Political consultants argue that this fiscal challenge makes the implementation of multibillion-dollar programs for Black residents a problematic endeavor.
In addition to the financial and budgetary hurdles, the push for reparations in California faces another significant obstacle – navigating the state's increasingly diverse population.
According to the 2020 census, Black individuals accounted for only 5 percent of California's total population. In contrast, Latinos comprised 39 percent, Whites 35 percent, and Asians 15 percent.
To achieve success, the reparations movement must gain the support and understanding of these other ethnic groups. Rob Stutzman, a Republican political consultant based in Sacramento, emphasizes that garnering backing from the broader multicultural population is vital for the movement's advancement and ultimate success.
As the reparations movement gains momentum in California, the reactions of Latino, Asian American, Pacific Islander, and Black legislators become crucial considerations.
In addition, the shifting demographics, with predominantly Latino districts represented by Black legislators, further add to the situation's complexity.
Rob Stutzman, a Republican political consultant, points out that the response from Latino and Asian American politicians and Black legislators representing predominantly Latino districts remains uncertain. Gaining their support and understanding is pivotal for the progress of the reparations cause.
California has long been seen as a land of hope and opportunity for countless African Americans, including those who migrated from the southern states in search of a better life.
Shirley Weber, the state's Secretary of State and a staunch advocate for reparations, recognizes the fading of that promise due to over-policing, redlining, and other systemic issues.
However, she believes reparations provide an opportunity to restore California as a beacon of hope and opportunity.
Reparations advocates have every reason to be proud of their accomplishments thus far, according to Secretary of State Shirley Weber.
With their sights set on securing widespread support, reparations advocates are already devising strategies to engage and persuade voters across California.
To accomplish this, activists are planning a comprehensive public education campaign, drawing upon the wealth of data, research, and personal stories that have emerged from the task force's work.
Chris Lodgson, an organizer with the Coalition for a Just and Equitable California, a prominent reparations advocacy group, explains that the campaign will leverage these valuable resources to connect with non-Black Californians.
By presenting the compelling evidence and narratives gathered by the task force, advocates aim to foster understanding and empathy, ultimately building support for reparations among diverse communities.
Lodgson expressed the next step in the reparations journey: "We are focused on building political support to bring reparations directly to the people's pockets. The fate of the legislation lies not only with elected officials and the governor but also in the hands of the people."